The Dow tanks 2.84%, 730 points lower on Friday. 
The S&P 500 drops 2.40% and the Nasdaq falls 2.59%.
It was another tough day on Wall Street as the coronavirus pandemic continues the bite the US economy. Texas and Florida are forced to scale back plans to reopen parts of the economy as the number of cases continues to rise. The US sent out US Economic Advisor Kudlow to try and ease some of the panic and he stated every number is showing a "v shape" recovery for the US. Interestingly, this week the Fed managed to shrink its balance sheet for the second week in a row. We have not been able to say that in a while. The US could have a solution to this as Larry Kudlow the Director of the United States National Economic Council stated the US will go back to congress to look for more tools. 
Facebook (-8.31%) was one of the main losers on the session as Unilever confirmed they would be taking a break from advertising on the platform. Unilever is responsible for some of the biggest brands in the world including Lynx, Walls, Ben & Jerry's and PG Tips. 
American Airlines closed the week 22.75% lower after the travel sector was hit hard with all the coronavirus news. Internal flights will also be hit hard as New York imposed quarantine rules on people coming into the sate from hotspot areas.
Main COVID-19 headlines
San Francisco Mayor Breed is to delay reopenings planned for Monday as SF virus numbers are `Low But Rising Rapidly'.
US CDC reports 40,588 new coronavirus cases as of yesterday – total cases now 2,414,870 Vs 2,374,282 in previous report.
Arizona's COVID-19 cases rise to 66,458 Vs 63,030 yesterday
Texas Governor says that bars and taverns must close immediately. 
In commodities news, the Baker Hughes rig count data showed that the rate of change in terms of closures seems to be slowing. A second wave could be a problem but WTI prices around USD 40 per barrel seem to be favourable for now. 
S&P 500 4-hour chart
The S&P 500 has broken the dominant trendline on the 4-hour chart below. The main support level on the chart is now the red line at 2963.50 just under the psychological 3000 level. 
The Relative Strength Index indicator has already moved into the oversold area and pulled back up. Now there is still some space to move back to the downside. Analyst's that focus on Elliott Wave and Dow Theory will be watching the red support carefully as the market could make a new lower low lower high formation if the support breaks.
Therefore next week is pivotal and the NFP data and Chinese manufacturing numbers could be the catalysts for the move.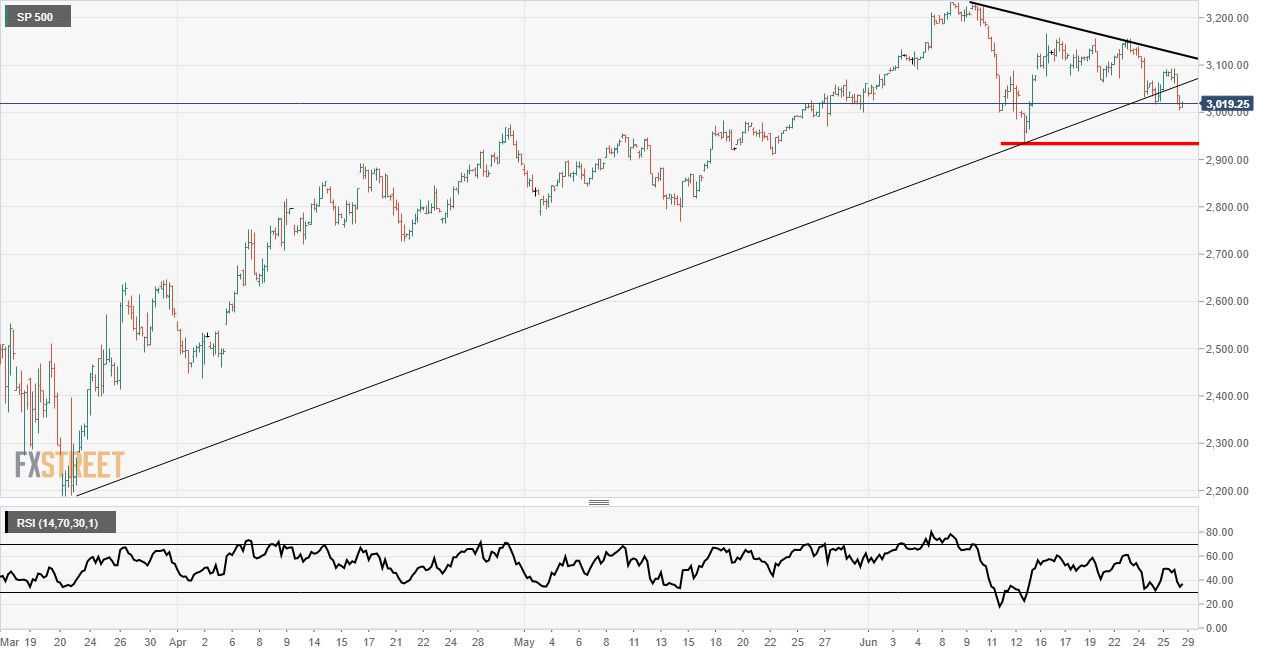 Additional levels