Share:
Silver is in the hands of the bulls.
Bulls need to stay on the front side and Gold price H1 H&S is a concern.
Banking crisis remains a key theme for safe havens.
Silver has been climbing through the $20s over the course of the month so far ad reached a high of the trend at $22.7169 in London. The white metal has moved up from a low of $22.2210 where a support structure has formed and the bulls might be expected to remain engaged while above it.
Despite a historic weekend rescue of financial heavyweight Credit Suisse with UBS buying the troubled bank for 3 billion francs ($3.2 billion), risk sentiment remains fragile, supportive of safe havens such as silver.
The speedy orchestration of Credit Suisse's takeover was received well, initially, in order to stem contagion, but there are persistent worries that other struggling banks might teeter next. More large and tiny corporations might need to be rescued.
The latest banking crisis started after two US lenders, Silicon Valley Bank, and Signature Bank, collapsed this month. Additionally, even though the First Republic Bank received emergency support, this has so far failed to shore up investor confidence. 
"If you think about where we were a year ago, the Fed was just starting its rate-hiking cycle. So over the next couple of quarters, you're going to get those long and variable, cumulative and lagged impacts hitting the market further," Bob Michele, the global head and CIO of fixed income at J.P. Morgan Asset Management, told Bloomberg TV. "So I think this is the tip of the iceberg. I think there's a lot more consolidation, a lot more pain yet to come."
It's also possible that "we just go from one weak institution falling over to the next," said Vicky Redwood, senior economic adviser at Capital Economics. There are no other obvious candidates that could be singled out like Credit Suisse, but it's "hard to predict where the problems will emerge," she said.
Silver and Gold price technical analysis
Silver, above is on the front side of the trend and a break of $22.56 will open risk to $22.90 and then $23.50.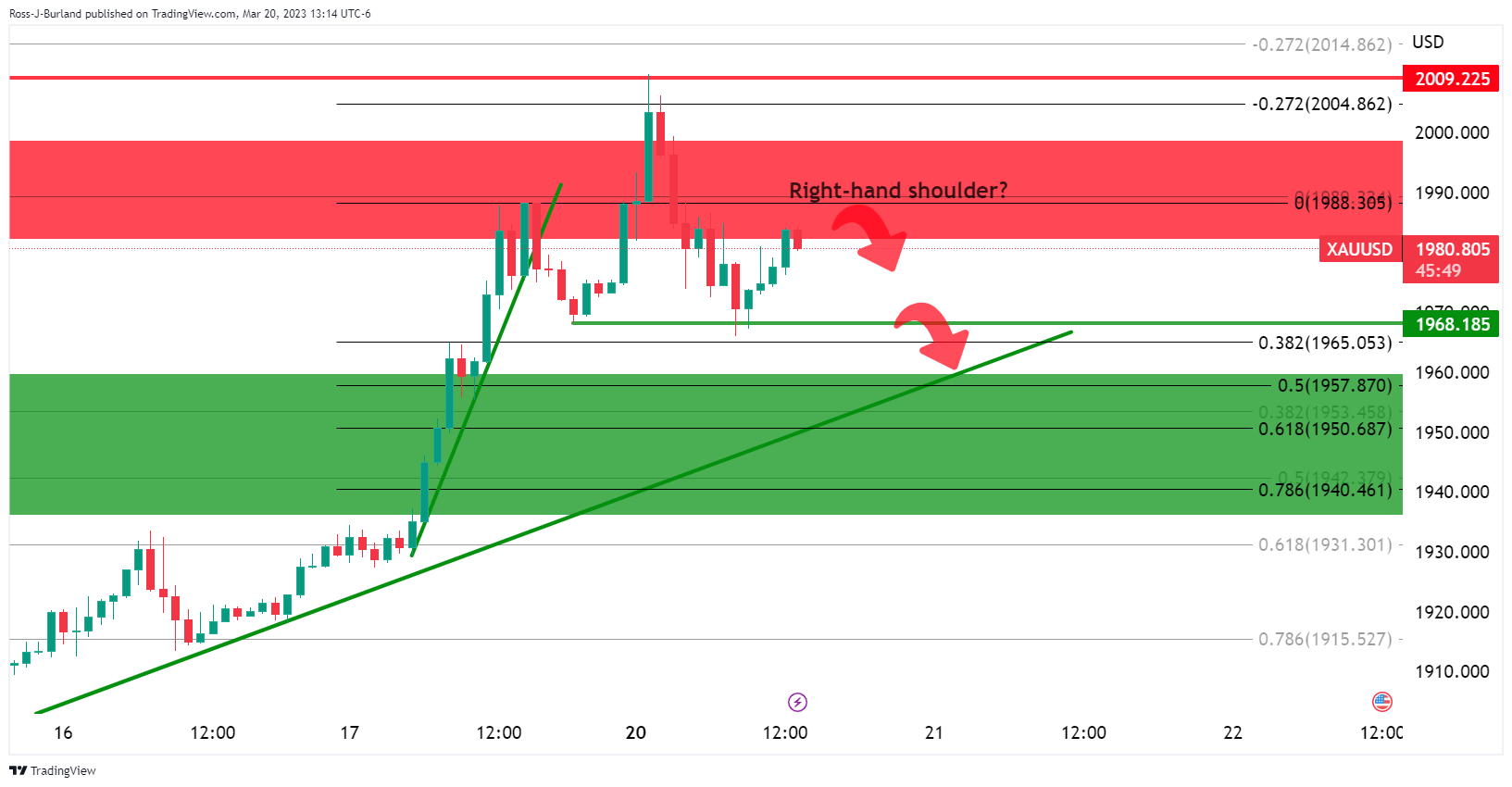 (Gold)
While there are prospects of a continuation higher in Silver being on the front side of the trend, a break of structure to the downside is also a possibility.
Silver tends to track Gold price and a head and shoulders that is a topping pattern are emerging on the hourly and lower time frames. This could spell danger for trapped bulls in both Gold and silver markets.