Crude oil prices climbed higher on more upbeat demand outlook and huge decline in US inventory. However, the upside would likely be limited as OPEC+ is prone to taper output cut, by 2M bpr, to 7.7M bpd from August. In the latest energy reports, all three major agencies revised upward their forecasts on global oil demand this year. The upgrades were mainly driven by the less severe contraction in demand in 2Q20. The US Energy Information Agency (EIA) projects that world demand would fall to 92.89M bpd this year. While falling -8.07% from 2019, the latest estimate marks an increase of +0.36M bpd from last month's forecast. Demand is expected to recover to 99.88M bpd in 2021, compared with +99.71M bpt projected in June. The Paris-based International Energy Agency (IEA) estimated that global oil demand would decline, by -7.9%, to 92.1M bpd in 2020. This marks an upgrade from 91.7M bpd in June. Demand would then recover to 97.4M bpd in 2021. OPEC has also upgrade the global oil demand forecast to 90.72M bpd for 2020, compared with June's projection of 90.59M bpd. Although demand is expected to fall -8.98% from 2019, it would likely increase in 2021.
Separately, the report from the US Energy Information Administration (EIA) shows that total crude oil and petroleum products (ex. SPR) stocks soared +9.84 mmb to 1461.62 mmb in the week ended July 10. Crude oil inventory slu,ped -7.49 mmb (consensus: -2.98 mmb) to 531.69 mmb. Stockpile declined in 3 out of 5 PADDs. PADD 3 (Gulf Coast) inventory sank -7.9 mmb during the week. Cushing stock increased for a second straight week, adding +0.95 mmb, to 48.74 mmb. Utilization rate added +0.6 percentage points to 78.1% while crude production steadied at 11M bpd for the week. Crude oil imports dropped -1.83M bpd to 5.57M bpd in the week.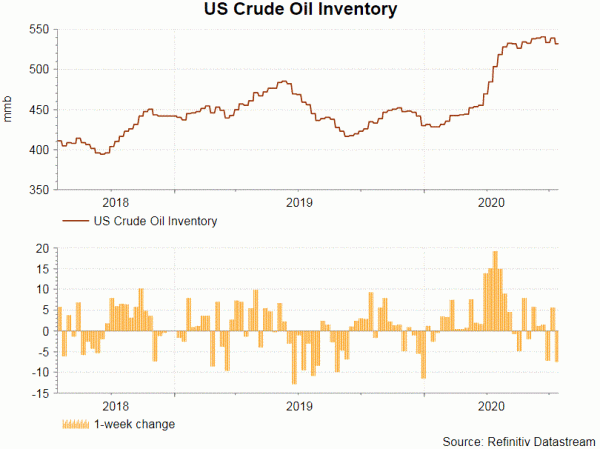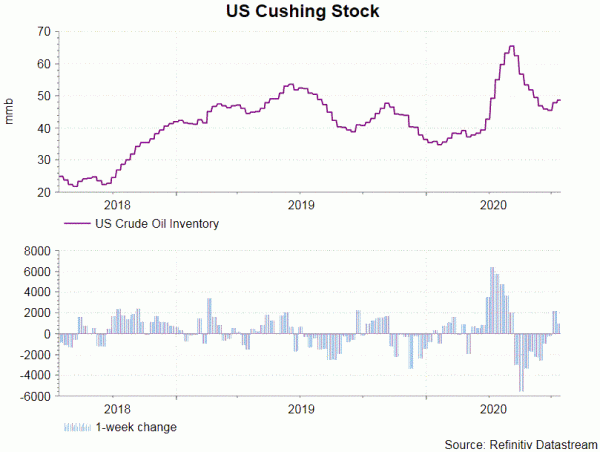 Concerning refined oil product inventories, gasoline inventory declined -3.15 mmb to 248.54 mmb although demand dropped -1.35% to 8.65M bpd. The market had anticipated a -0.64 mmb decrease in stockpile. Production added +0.55% to 9.1M bpd while imports slumped -32.37% to 0.49M bpd during the week. Distillate slipped -0.45 mmb to 176.81 mmb from last week's record level. The market had anticipated a +1.49 mmb increase. Demand soared +22.29% to 3.69M bpd. Production added +2.19% to 4.86 mmb while imports jumped +37.5% to 0.1M bpd during the week.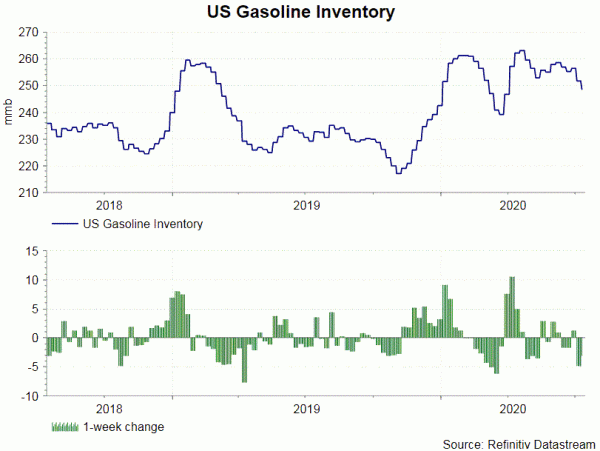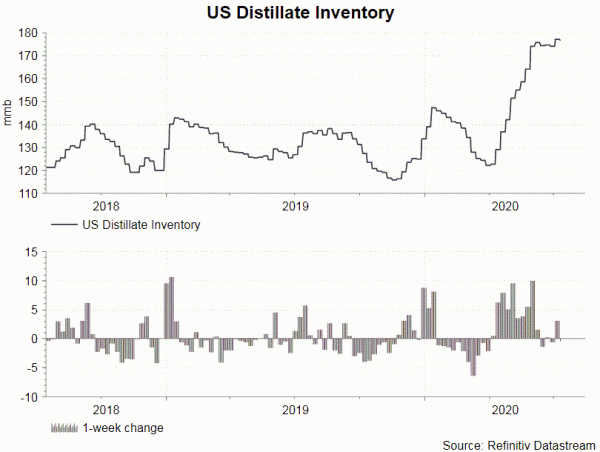 Released after market close on Wednesday, the industry-sponsored API estimated that crude oil inventory slumped -8.32 mmb during the week. For refined oil products, gasoline inventory dropped -3.61 mmb while distillate added +3.03 mmb.
– advertisement –