Affirm reported an EPS GAAP loss of $-0.65, below consensus.
Revenue for fiscal fourth quarter came in ahead by $8.5 million.
Revenue has leveled off in 2022.
Affirm Holdings (AFRM) released a worse than expected loss for the fiscal fourth quarter, and shares of the company shed some 14% in the afterhours trade. AFRM stock has recouped precious little of that in the premarket on Friday as shares are down 12.7% to $27.27.
Affirm Holdings earnings
The buy-now-pay-later (BNPL) firm known for being founded by PayPal mafia alum Max Levchin, the current CEO, reported a FQ4 loss of $-0.65 that was 8 cents below Wall Street consensus. Revenue of $364 million was $8.5 million ahead of forecasts, but it was largely in line with the previous two quarters. Basically, Affirm has been adding plenty of new vendors to its base, but that has not been translating as well to gains in revenue. The revenue figure was up 39% YoY but less than 3% sequentially. 
Unfortunately, management sees this stalling growth continuing into FQ1 2023. Guidance for revenue was given at a midpoint of $355 million for the next quarter despite previous consensus for $391 million. The firm also said that adjusted operating losses in the next quarter would jump to 11% of revenue rather than Q4's 8%. Guidance for the 2023 fiscal year was also well behind previous estimates for Wall Street.
Active merchants grew from 207,000 to 235,000 on a sequential basis or 13.5%, which is quite impressive, and active consumers grew by 1.2 million sequentially to 14 million.
CFO Michael Linford noted that the increase in interest rates was affecting profitability but put a positive spin on it. "Our funding costs increased 24% year-over-year, in line with the 24% growth in loans held for investment despite the higher rate environment and significantly below the 53% growth in our total platform portfolio," Linford said.
Slide from AFRM FQ4 '23 earnings presentation
Affirm Holdings stock forecast
With the premarket price trending down, a glance at the daily chart below shows that some support exists at $26. Hopefully for the anxious shareholders, it sticks. Otherwise, expect AFRM to drift down to support at $20 from mid-July. The Moving Average Convergence Divergence (MACD) indicator has already turned over, so expect AFRM stock to lack a quick rebound in the near future. AFRM is definitely a long-term hold if anything. Without much growth or profits, it is hard to say how its strategy plays out. It is quite hard to act bullish until this one closes above $40.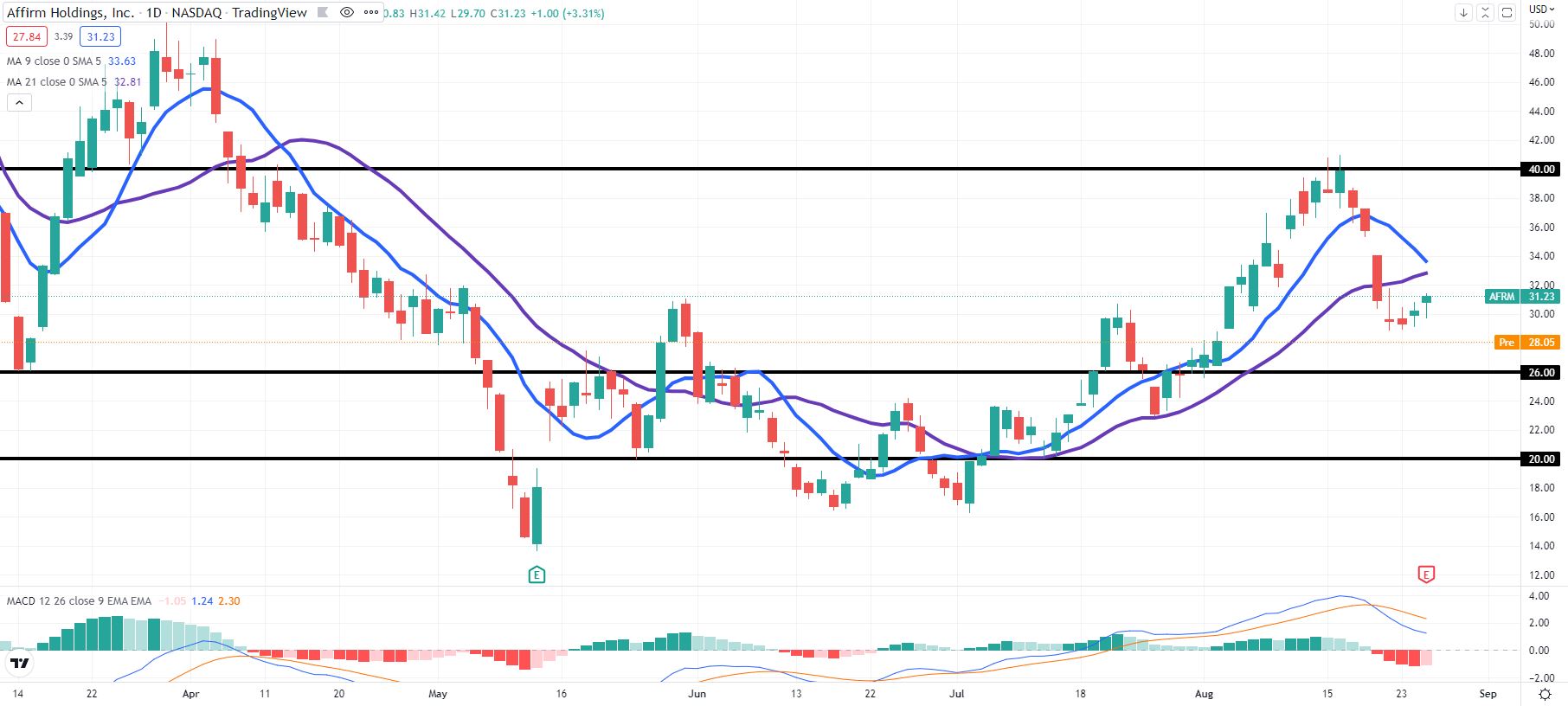 AFRM daily chart